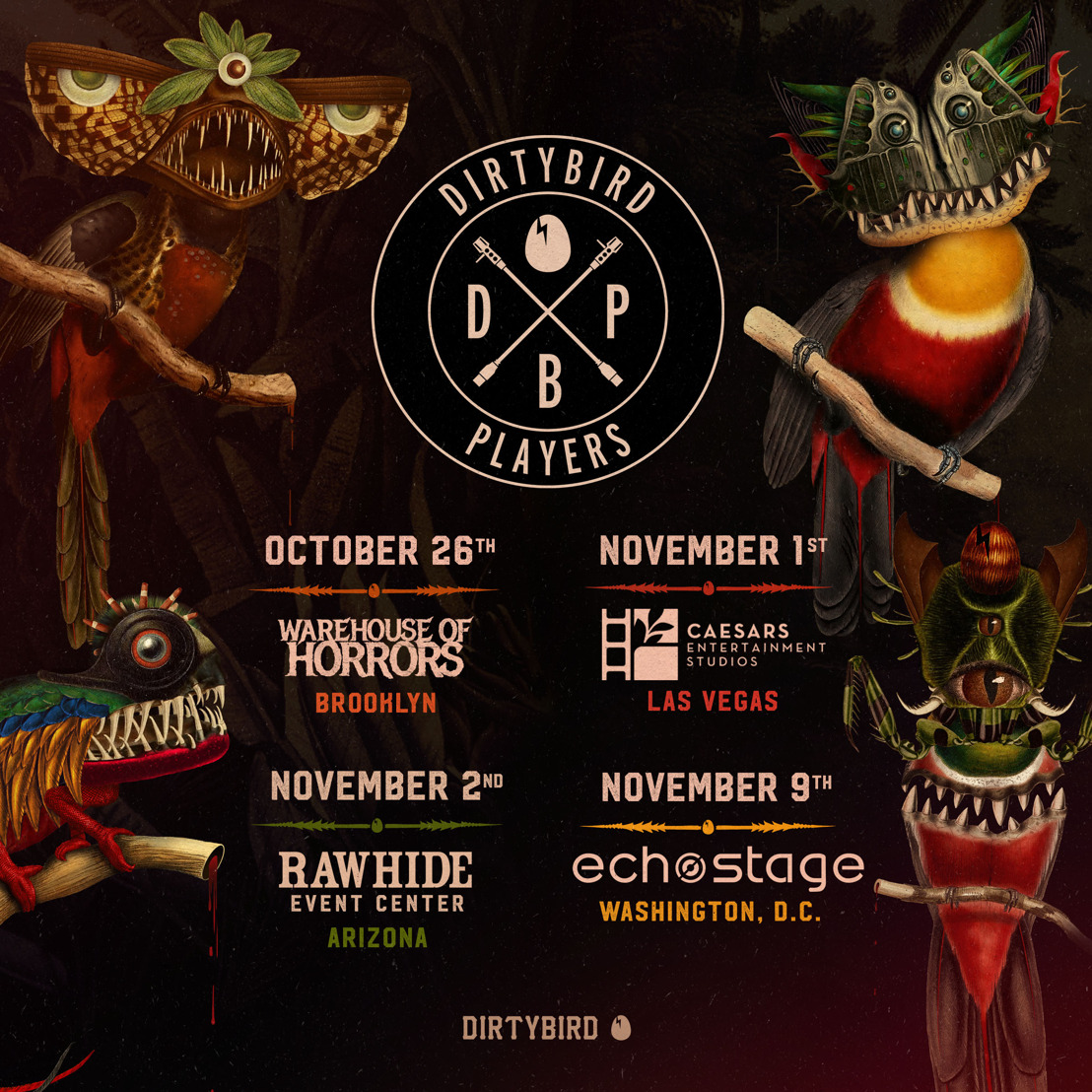 Tuesday, August 20, 2019 — Claude VonStroke to be Joined by Justin Martin, Justin Jay, Walker & Royce, Shiba San, J.Phlip, J. Worra, VNSSA, and Christian Martin
Stops in Brooklyn, Miami, Las Vegas, Boston, Vancouver, Portland, Arizona, Georgia, and Washington DC
Plus Birdhouse Festival & Dirtybird Campout West
Tickets On Sale August 22
Today, DIRTYBIRD announces the DIRTYBIRD Players Fall Tour alongside Phase I of Claude VonStroke's Fall show dates, touching down in Brooklyn, Las Vegas, Arizona's Rawhide Event Center, and Washington DC throughout October and November
The DIRTYBIRD Players run kicks off in Brooklyn, where the brand will be staging a takeover at the esteemed Warehouse of Horrors Halloween gathering. VonStroke tapped longtime label stalwarts Justin Martin and Justin Jay to join in on the festivities, as well as VNSSA, who's quickly become a favorite amongst the DIRTYBIRD community. VNSSA will go on to play the Las Vegas show at Caesar's on November 1, where J.Phlip and Christian Martin will also be showing off their polished takes on house and techno.
Walker & Royce will continue their monumental rise within the DIRTYBIRD family this year, joining the Players in DC, Las Vegas, and Arizona following the success of their Bodies Do The Talking EP this summer. Likewise, the venerable Shiba San will be lending his talents for the Arizona and Washington DC dates. To top it all off, DJ Mag's 2019 'Breakthrough Producer of the Year' J. Worra is also slated to join the Players for their Arizona throwdown.
DIRTYBIRD Players club nights and festival stage takeovers remain a vital piece of the label's coast-to-coast legacy. It is the enthusiasm of their outrageously dedicated fanbase that fills these evenings with the wacky bliss that has defined the label for nearly fifteen years. Couple this with the musical surprises in store from the constantly evolving DIRTYBIRD family and you have one of North America's most happening parties.
It's a busy fall for the DIRTYBIRD don Claude VonStroke – who will begin his Fall 2019 tour at the second edition of the revered Birdhouse Festival in Chicago, then take him to Modesto for his magnum opus of DIRTYBIRD showcases – DIRTYBIRD Campout West 2019. The tour will see him bring his off-the-wall house stylings to Miami, Georgia, Portland, Boston, Washington, and then finish up with our Canadian neighbors in Vancouver. More dates to come – watch this space for more news.
DIRTYBIRD Players 2019 Fall Tour Dates + Lineups:
Brooklyn, NY – Warehouse of Horrors, October 26
https://nightout.com/events/warehouse-of-horrors-festival/tickets
Claude VonStroke
Justin Martin
Justin Jay
VNSSA
Las Vegas, NV – Caesar's Entertainment Studios, November 1
https://www.eventbrite.com/e/rvltn-presents-dirtybird-players-w-claude-vonstroke-walker-royce-more-18-tickets-69786484253
Claude VonStroke
Walker & Royce
J.Phlip
Christian Martin
VNSSA
Chandler, AZ – Rawhide Event Center, November 2
https://www.seetickets.us/event/Dirty-Bird-Players/391637
Claude VonStroke
Shiba San
Walker & Royce
J. Worra
Frank Terry b2b Ghost Effect
Washington, DC – Echo Stage, November 9
https://www.eventbrite.com/e/dirtybird-players-tickets-69449508349
Claude VonStroke
Shiba San
Walker & Royce
Claude VonStroke Fall Tour Dates:
Chicago, IL – Birdhouse Festival, September 7
Miami, FL – Club Space – September 21
Hampton, GA – Imagine Music Festival – September 22
Modesto, CA – Dirtybird Campout – October 3-5
Portland, OR – 45 East, October 19
Brooklyn, NY – Warehouse of Horrors, October 26
Las Vegas, NV – Caesar's Entertainment Studio, November 1
Chandler, AZ – Rawhide Event Center – November 2
Boston, MA – The Grand, November 7
Washington, DC – Echo Stage – November 9
Vancouver, BC – Celebrities Nightclub – November 23
Connect with Dirtybird
www.dirtybirdrecords.com
www.facebook.com/dirtybirdrecords
www.soundcloud.com/dirtybirdrecords
www.twitter.com/dirtybird_sf