Asteria has finally dropped their full lineup for their 2021 festival and might I say, I am surprised by the type of talent that they have brought to the table this year. In this article, I will go over the main acts; who they are, and what type of genre to expect from each of them.
Furthermore, I'll provide links to their music in their name!
1.) Borgore
Trap is not dead! Asteria added one of the biggest trap artists that blew up during the mid-2010s. You can expect some heavy tear-out dubstep with some heavy 808 trap beats and hip-hop mash-ups. If electronic trap remixes of top rap songs with heavy basses and high-end tear-out noises are your thing then Borgore will be well worth your time.
2.) Rusko
The cockney thug is back, and here to drop some heavy experimental wubs with some drum and bass. Hailing from the UK, Rusko has been in the game for a long time. I am sure he will bring that early 2010's dubstep sound to the festival. Rusko has collaborated with high-profile artists such as Caspa, Boogie. T, and Dirt Monkey. He has also had releases on the WAKAAN label. Expect nothing but a good time from him.
3.) Bonnie X Clyde
The dynamic duo originally from Miami now based out of Los Angeles will be making their appearance at Asteria. Bonnie X Clyde are a good introductory group for those new to electronic music. Expect a fun experience full of future bass, future trap and singing.
4.) Ekali
Ekali will bring a similar vibe to that of Bonnie X Clyde. Expect a more melodic set kind of like Illenium but with more future bass and future trap drops. Ekali is a high-profile artist that has worked with big artists such as Drake, Denzel Curry, and ZHU. He is currently part of Skrillex's OWSLA label.
5.) K?D
An addition, I was not expecting but pleased to see nonetheless, K?D, the young producer from Miami, will bring a diverse set to Asteria. Expect to hear future bass, dubstep, techno, Mid-tempo, and a little bit of hardstyle. Yes, techno and hardstyle. I was not joking when I said diverse, however, those open to new musical experiences will enjoy this one.
6.) NetSky.
Make drum and bass great again! I have noticed a small resurgence in the Drum and Bass genre here in the United States and I am happy to see it. Netsky is a Liquid Drum and Bass artist from Belgium. For those who don't know what that means, it basically means he plays chill and vibey DnB. Netsky is a DnB legend and someone who is worth your time.
7.) Whipped Cream
The Canadian-based artist is making another appearance at Asteria. Asteria is known for featuring budding artists such as Whipped Cream in the early days of her career. I would say to expect another diverse set ranging from dubstep, trap, and hints of techno
8.) Axel Thesleff
One of the most unique and exciting acts on the lineup, Axel Thesleff is a Finnish musician specializing in ethno-trap (not sure if that is the correct name but I heard it somewhere and it sounds fitting) similar to CloZee. For my fans of bass music that incorporates sounds from other countries such as India and Southeast Asia, Axel Thesleff will put on a show that will make you feel like you are a vagabond traveling through the Himalayas on a spiritual journey.
9.) CHEE
The experimental bass producer from South Africa will showcase his unique style in Punta Gorda this year. I had the pleasure of seeing him open up for G Jones during the Ineffable Truth tour. This man is talented with distorted breakbeats and Aphex Twin-inspired music. Chee is another west coast experimental style artist influenced by the likes of Eprom, G Jones, and Tsuruda.
10.) Chet Porter
Get your soft boy feelsy vibes on because that's what Chet Porter what will bring to the table. As part of the Foreign Family collective with acts such as Jai Wolf, ODESZA, and Big Wild, Chet Porter delivers his own style of soft pop edm.
11.) Chomppa
Chomppa isn't someone I am too familiar with, however, after listening to a few of his songs and sets, I know what to expect. Chomppa is one of many experimental bass artists that will be featured at Asteria. Furthermore, Chomppa was featured on TVBOO's track "DRUGS"
12.) Delta Heavy
Make Drum and Bass great again part two! The iconic UK-based DnB duo will be playing their iconic neuro DnB style in Punta Gorda this year. Delta Heavy is another act that I am very excited about. With releases on the Deadbeats label and collaborations with Zeds Dead, those new to Delta Heavy should find it easy to love them.
13.) Digital Ethos
Another experimental bass-style artist will be appearing at Asteria. Coincidentally, I saw Digital Ethos a month ago in Tampa at Shipwrecked Festival — awesome set. Digital Ethos has collapsed with artists from the WAKAAN label and most notable for his work with Bassnectar.
14.) Dustycloud
Kids, it is time you learn about house music. Dustycloud is a young French producer that has other French house artists such as Tchami. Malaa, and Mercer turning their heads. Dustycloud's deep house and bass house have also caught the attention of the OWLSA label, he is an up and comer not to be missed.
15.) FYTCH
Fytch was a name I was not familiar with. However, after taking the time to listen to his music, I have found that Fytch delivers a unique style that combines live instruments with future bass and nodes of experimental bass. I found his music style to be unique and I look forward to seeing him.
16) Jason Leech
Another musician that I am very excited to see. You might have seen small clips of him here and there. But if you haven't, then I would describe him as the electronic version of Marc Rebillet. Expect live remixes of songs from artists like Clozee, LSDREAM, and GRiZ. Jason Leech will provide a unique and funky experience to all.
17.) Kumarion
Make Drum and Bass…. okay I'm done but you get the idea. Asteria keeps introducing us Americans with more Drum and Bass. Kumarion is dark DnB, an angrier version of the previous DnB artists.
18.) Lizzy Jane
The Tampa native is making yet another festival appearance in the sunshine state. Resident at The Ritz in Ybor, Lizzy Jane continues to work hard and make moves performing anywhere she can. Her unique take on bass music has had a positive impact on the scene and she was featured on Insomniac's discovery project. things are just heating up for her.
19.) Manilla Killa
Calling all sad boy music fans, another Foreign Family collective artist is here to put you in your feels. With Manilla Killa, you can expect soft and ethereal future bass sounds, however, in recent years, Manilla Killa has incorporated more house music into his sets.
20.) Megalodon
Calling all headbangers. Prepare to have your necks snapped. Everyone in the headbanging community knows who Megalodon is. The San Fransisco-based producer is currently signed with Never Say Die! records and has collaborated with some of the biggest electronic artists such as Zeds Dead, Skism, Habstrakt, 12th Planet, and Virtual Riot.
21.) Mersiv
Anderson Benoit Gallegos, better known as Mersiv, has become one of my favorite bass artists over the past couple of years. With releases on the WAKAAN label and his own record label; MorFlo, Mersiv has carved his own path in the experimental bass scene. I may be biased but the future of bass music looks bright with budding artists like Mersiv.
PS: for those who like Mersiv, then check out MIZE
22.) Moore Kismet
Another name I was unfamiliar with, however, after listening to some of his discographies. I found his music to be quite unique. It was almost as if dubstep and Flume's interesting take on future bass came together in an elegant fashion. Omar Davis is not even 20 yet and has already pushed the boundaries of electronic music. The future is bright with this one.
23.) Notixx
Notixx is another experimental bass music artist that has spent his career pushing the boundaries of not only bass music but also electronic music as a whole. With support from Subdocta, Dirt Monkey, and Jantsen, Notixx has received the thumbs up from some of the industry's best.
24.) PLS&TY
Another emerging future bass breakout star in the making, PLS&TY's style elicits a young, wild and free feeling that we all long for. His hit song "Run Wild", at first listen you would assume that it is a CloZee song. PLS&TY's style also provides hints of synthwave that gives the feeling of nostalgia.
24.) Shanghai Doom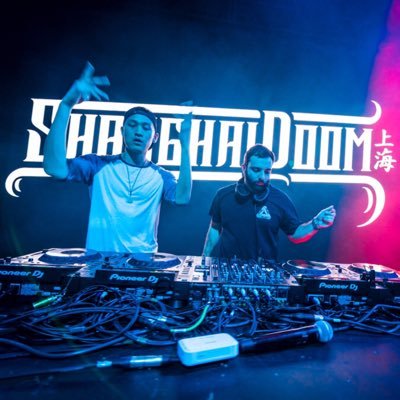 The experimental bass duo from Jersey that began in 2017 has garnered the attention from big named acts such as Liquid Stranger and Mr. Carmack. With releases on Bassrush and WAKAAN, Shanghai Doom continues to stretch the boundaries of freeform bass music and trap. Keep an eye on these two in the future.
26.) Silent Child
Imagine Hippie Sabotage but with out the toxicity. Jokes aside, Silent Child is a future bass artist whose sounds are similar to SEBASTIAN PAUL. Soft future bass sounds that elicits a warm emotional reaction with pop and trap influenced beats.
27.) SoDown
It can be hard to remain impartial to some of these artists, however, I can't contain my excitement for SoDown. I am a big fan of the funky bass music subgenre. Artists like GRiZ, Gramatik, Big Gigantic, and Manic Focus are some of my favorites. Furthermore, artists like them are far and few in-between. SoDown is an established artist in this genre who is nevertheless finding his place in this scene, however, the future looks bright for him since big acts such as Pretty Lights and Manic Focus have given him the stamp of approval. SoDown describes his music as "bass music with soul" if this description piques your interest then I implore you to check him out.
28.) Spor
Asteria continues to impress me by providing us with more Drum and Bass artists than any other festival that I have been to. That includes EDC Orlando, Bonnaroo, and Electric Forest. Drum and Bass has been almost nonexistent in the United States for a long time. Spor is a UK Drum and Bass producer specializing in Neurofunk DnB, Dark & minimal style, and jump up.
PS: I started producing last year. I have been producing on DnB on Ableton, if you would like to keep up with my journey then follow me on here!
29.) SterFry
Okay no joke, this guy is an enigma. Every time I looked up his name on Google or Youtube, I was redirected to the Migos song "Stir Fry." Furthermore, I also found DJ Stirfry who played old-school hip-hop. So finding him wasn't as streamlined but I found his Facebook profile with the Asteria lineup and all of his social links. I honestly don't know what genre he is. He has experimental bass tracks, dark & minimal DnB tracks, but also a lot of lofi jazz songs. I'm not kidding when I said that he is an enigma. Nevertheless, mysteries can be fun. So we will have to see for ourselves what to expect.
30.) STUCA
Trap fans and headbangers can rejoice. Stuca provides trap tunes with heavy dubstep and experimental bass drops. Stuca has been featured on Excision's couchlands livestream.
31.) Sumthin Sumthin
No, not the song by Maxwell but I'd say just as good. Sumthin sumthin is another unique artist who is not confined to a specific genre. He has songs that are very much future bass while simultaneously having songs that freeform bass. It's nice seeing more artists not limiting themselves to a specific genre
32.) Wreckno
The up-and-coming bass artist hailing from Michigan is heading to Punta Gorda to radiate some positive energy on us and I think we are all here for it. Wreckno has made a name for himself in recent years from performing at Okeechobee 2020 while on his tour with Super Future to his popular collaboration with GRiZ and even getting the thumbs up from artists such as iLLGATES, G-Space, and PEEKABOO. The future looks bright for the 24-year-old bass producer.
33.) Yheti
Who else but Yheti to finish this list. Yheti is one of the most unique artists in the bass scene. His ability to re-sample sounds and incorporate them into his tracks is nothing short of sublime. I don't mean to nerd out but Yheti's sound design process has always fascinated me. Check him out and try to take a guess at what random sound he re-sampled and turned into music.
Bonus: Supporting Talent
I am not too familiar with all of the supporting talent, however, I do know some people from two local labels: Headbang Society and Wubaholics. From Headbang Society, I would recommend TINK. He is a 23-year-old bass producer from Orlando, Florida with a ton of potential. Furthermore, from Wubaholics, I would recommend Oli, Reginald Simpson and Tape B. Wubaholics is a small bass collective focusing on experimental and freeform bass.
Conclusion
We did it! 31 artists, up and 31 down, including some local talent. Asteria has grown a lot over the years, from a small bass fest that featured mostly local acts to a notable camping festival with several notable acts. Asteria has something for everyone with many unique artists while staying true to its roots and showcasing local artists.
If you are thinking about going to Asteria, use promo code: "MF365" at checkout to receive a discount!
I hope to see you all there. My name is Alex, and I will see you next time.
Follow me here!