What a way to bring back festivals after a year-long hiatus! For many festival-goers, including myself, this was our first time back in what feels like forever. In this article, we will recap Sunset Music Festival and discuss what was it like being back at a festival for the first time in a long time.
Day 1
The first day of a festival is always the warm-up day. Waking through the entrance, getting our bags checked and wristbands scanned brought back some old memories from other times that I have had to do this.
I remember walking around and hearing the bass bumping at each stage while simultaneously looking for specific landmarks that my friends were at. When I found my friends, suddenly everything seemed surreal. It has been over a year since I have connected with my friends at a festival while also meeting new friends who came with other friends. I felt at peace, I felt like I was finally home.
Day 1 was chill, although there were not a whole lot of people that I wanted to see, I did take the time to check out artists that I have never heard of or saw in a long time. I spent a lot of time at the house stage discovering some new acts such as Kendoll, Sinden, and Jack Beats. I finally saw Chris Lorenzo for the first time as well! I rekindled my relationship with some of the artists that I first fell in love with when I got introduced to electronic music but then fell out of love with as I grew older. Said the Sky was not that bad, and Adventure Club was better than I remembered! Seven Lions delivered an amazing and emotional set as well. Overall, Day 1 of SMF was kind of like my first festival all over again.
One thing that was different about this year for me personally was that I got hooked up with a VIP upgrade! Being VIP at SMF was not that bad, having access to the VIP lounge at each stage was very nice when there was no line to get in. However, the best part of the SMF VIP experience was the clean bathrooms and sinks with running water! Not having to use the porta-potty and rely on hand sanitizer to clean my hands was nice!
I think overall, being VIP at SMF has its perks but it isn't all that. However, I think if you are older, do not go to festivals often, have money to spend, or don't like being with the crowd at each stage. Then VIP might be worth your money.
Day 2
Day 2 was unreal. If Day 1 was the warm-up, then Day 2 was the championship game. If Saturday felt like my first festival, then Sunday felt like we picked up where we left off. I was very excited for Day 2 because there was practically a WAKAAN take over at the eclipse stage. The 4-5 hour long stretch between Esseks, Conrank, INZO, Champagne Drip, and Lsdream was amazing. Weird wonky bass music that you can feel rumbling in your guts gets me going every time. None of my friends knew who Conrank was, which was odd considering my friends were all former Bassheads, however, after this weekend, they all knew who was Conrank. INZO was everything I imagined, a balance between future bass sounds and weird WAKAAN bass drops, then to close it out with Overthinker was sublime. Champagne Drip was not playing around. The first song of his set was "Nerf This" an absolute head-banging song. Drip played tons of WAKAAN's best tunes such as POWA by Peekaboo and COLD CASE by Champagne Drip and G-Rex. Finally. Lsdream capped it off and it is safe to say that none of us were disappointed. Lsdream brought out a high energy and psychedelic set to us all. I think we all peed our pants when he brought out Champagne Drip for Eternal Now. Safe to say that Lsdream made us radiate with a High Vibration.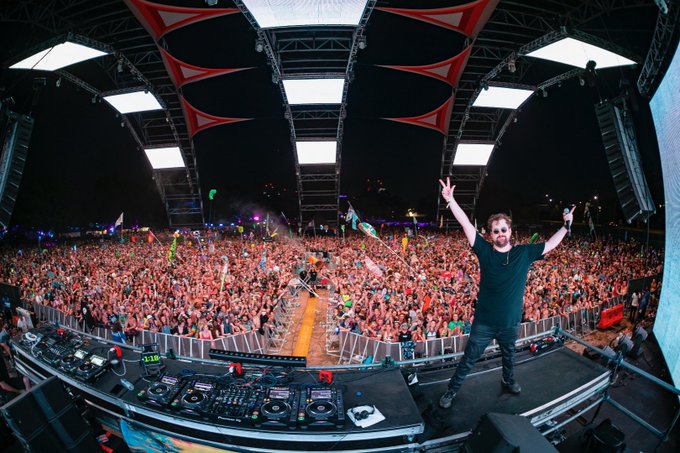 To end the night, we saw Slander who delivered an awesome set, then finished the festival with 12th Planet who obviously did not disappoint. Unfortunately, I missed Shiba San and Green Velvet, however, Day 2 was all about the bass.
Overall, Sunset Music Festival was a great time. Even though I have been to bigger and better festivals such as Bonnaroo, Electric Forest, and Okeechobee, Sunset reminded me of how much I genuinely missed and love this scene. The sights, colors, sounds, and the people are all things that I have missed dearly about the festival scene. Sunset just made me excited for the rest of this year.
I'll catch yall at Imagine, Hulaween, and EDC Orlando!
Follow me here!
Epilogue: First Post-Covid festival experience
If you are wondering what it was like going back to a festival post covid, allow me to explain. Florida…. is different. Similar to Texas and other southern states. The general perception of Covid is in opposition to most of the country. If you take a closer look, the fests that are happening this year or that already have happened are located in the Southeast, whereas the fests that have been postponed are either out west or up north. Nevertheless, this is just a generalization. Summer Camp is happening this fall in Illinois.
Florida has been open to some degree since June of 2020 and has continuously rolled back Covid restrictions to the point where all of the state's Covid restrictions have been lifted. Therefore, Sunset Music Festival was not any different than any other installment of the festival before it. The only difference is that there were signs that encouraged people to wear masks if they were not yet vaccinated, and there was a tent outside of the front gates offering free vaccines and covid tests.